Segreve & Hall are proud to feature another Food Network celebrity in Nikki Christo, whose restaurant was recently on Guy Fieri's Diners, Drive-Ins, and Dives. Nikki opened Blunch after seeing a For Rent sign on a store front near Boston Medical Center. After years of working in restaurants and owning a meat market, she thought to herself, "one more time!"
Seven years later, Blunch is thriving. Their convenient location in the South End of Boston and diverse menu caters to just about anyone. From open to close, the team is slicing fresh ingredients from tomatoes to olives to bagels and more. Blunch is famous for their eggwiches, but they also prepare lunch for meat lovers, vegans, and everything in between.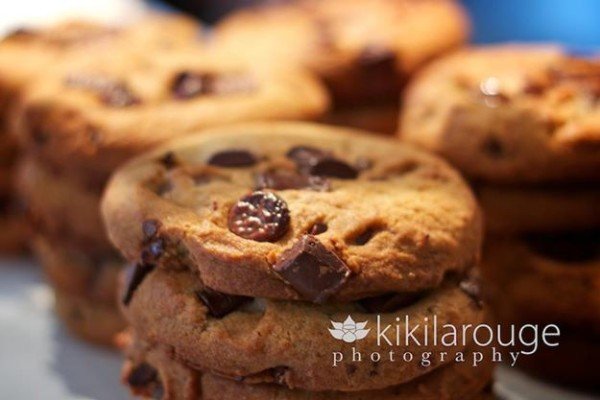 Blunch gets their bread daily from Quinzani's Bakery in Boston, and just like their fresh ingredients, Blunch changes their menu on a regular basis. Nikki puts a lot of creative energy into Blunch's daily whims, which include a special pressed panini and a sweet. You can see the whims posted daily on Blunch's Facebook page.
The Food Network wouldn't disclose how they found Blunch, but one thing's certain is life after Diners, Drive-Ins, and Dives has been a lot busier for this no longer hidden gem, but still manageable. Nikki is proud to say she kept the same four members of her kitchen staff, despite the influx of new faces- some arriving by taxi straight from Boston Logan International Airport.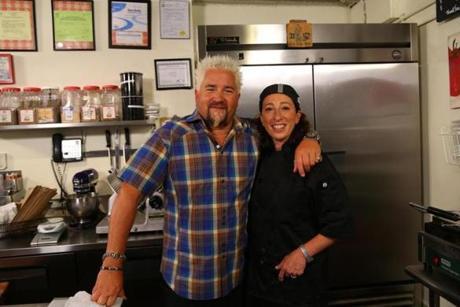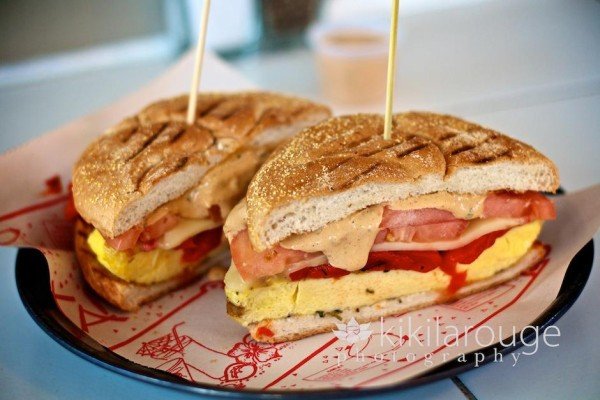 Nikki prepared two pressed sandwiches for Guy, which many would say are a couple of Blunch's best: the Bird and the Provencal. Both fan favorites, the Bird is a pressed panini loaded with roast chicken and artichoke aioli, while the vegetarian Provencal is topped with goat cheese and an unconventional nut pesto. Guy loved both pressed sandwiches, and the episode was not only a great success for Blunch and the Food Network, but for all of Boston.
Blunch is located on 59 East Springfield St. in Boston, MA.
They are open Monday through Friday 8 AM to 3 PM, and Saturday 9 AM to 3 PM.
Blunch also caters! You can call in your request at 617.247.8100.
To learn more about Blunch or Nikki's story, you can read more in the Boston Globe.